IELTS Speaking Part 1 Discussion
Every adventure has a beginning. I began as a royal watcher when Tasmanian (and fellow Aussie) Mary Donaldson married Crown Prince Frederik of Denmark in 2004. At the time, I was a preteen in my second-last year of primary school. Like any little girl, seeing a woman marry a prince was rare. Did I want to be a princess? Unlike most kids, I had no such dream. I wasn't around when Lady Diana Spencer married Charles, Prince of Wales, in 1981. After reading about the marriage, I did NOT consider the union a fairytale. I do recall. However, my mother said countless times that she hated the Princess of Wales's wedding dress. Having seen the footage of the late mother of two getting out of the carriage on her wedding with the crumpled skirt and train makes me think that my mum was right—just my two cents.
Fast-forward to 2005, and Crown Princess Mary's first pregnancy is announced. In October of the same year, she gave birth to Prince Christian. I still remember the debate over what she and Fred would call him. Given that he will one day be king, it was a choice of Christian or Frederik, and there was no way to choose a different name as all Danish kings had either one or the other. I don't remember Princess Isabella's birth. Still, I remember the incident at Princess Josephine and Prince Vincent's christening in April 2011, where it was unclear whether the girl twin's name was Josephine or Josephina, as Mary had pronounced it with an accent.
Also, in April 2011, was Prince William of Wales's wedding to Catherine "Kate" Middleton. At the time of the engagement, all I knew was who William was and that he and Kate had broken up some years prior. Also, I knew who Princess Diana was and how she died. Moreover, the countdown to the wedding was massive with all the talk surrounding which tiara the bride would wear. It was also all over iTunes's front menu.
A memory I have from around the time of the engagement was hearing the news and seeing Catherine walk out on William's arm, wearing Diana's engagement ring. The ring was so iconic, and I love the story that came to William getting the ring. Prince Harry wanted to see the ring on the hand of a future queen consort, so he and his brother switched momentos. He was given their mother's Cartier Tank Watch.
I remember the day of the wedding like it happened yesterday. It was about 8:00pm or 8:30pm in Australia, where it aired on; I remember it being Channel 7. I watched it with my mum. I also recall sitting there waiting for Catherine to get William's names jumbled. Diana did this with Charles over thirty years before. So I was relieved when it didn't come. William and Catherine were the perfect couple who had to jump hurdles to be together. Being an heir to the throne would've been hard on William, and he had to ensure that Kate could handle the pressures.
The paparazzi were brutal towards Catherine in the early days of their relationship. They hounded her. Stalked her. It got so bad that Kate had to quit her job. I was obsessed with the wedding countdown for some reason. I loved that William was happy. Diana would've been so proud of him for choosing a woman he loved. She would not have wanted him to live the life she had with his father.
I even recall the talk about Pippa Middleton's toned ass that went on for weeks afterwards. After seeing Jessica Mulroney's failed attempt to replicate it, I think Meghan's friends used her to make themselves more visible.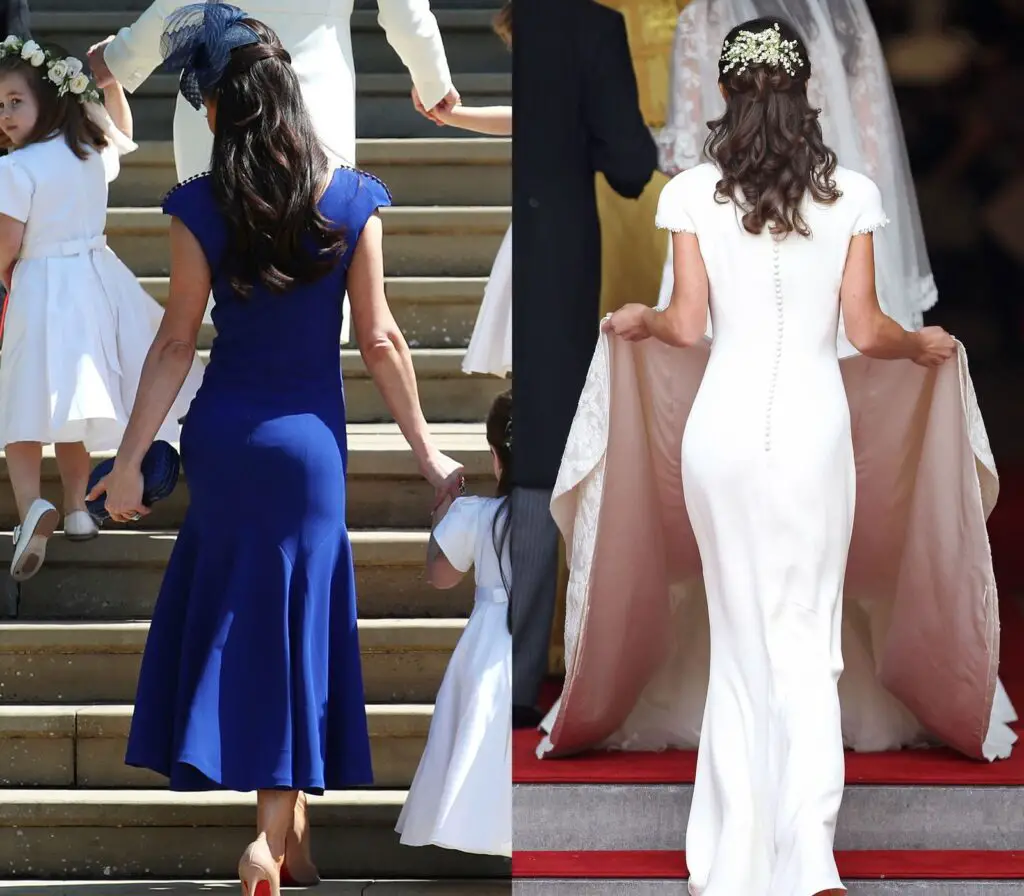 Next, we get to Prince Harry before he became the shell of the man he is today. First, I remember his romp in Las Vegas like it happened yesterday. Then, there were the stories that came out about the Nazi uniform. I didn't see the story about his comments about Chelsy Davy not being black until much later. The more I read about him, the more I came to understand his rowdy behaviour. It's not something I would've done, but he was still dealing with the loss of his mother so many years after her passing. Little did anyone know that this was not the end of that story.
I loved seeing William, Catherine and Harry working together. They were the ultimate team. While most couples with a third person attached would've seemed like overkill, seeing the trio together was enlightening. It showed that Harry wasn't considered a third wheel. Not by a long shot. Will and Kate loved having him with them. Also, he seemed to enjoy their company. I still remember him saying that Catherine was like the big sister he never had.
My excitement when it was announced that Catherine was pregnant with Prince George was unlike anything I had ever experienced. So naturally, I was thrilled for her and William. I knew Harry would be a fantastic uncle as he adored children as much as they did. However, my joy for the Cambridges turned to horror. An Australian radio station pranked a nurse at the hospital Kate had been admitted to after she suffered horrible morning sickness.
A short time later, it was revealed that the nurse at the centre of the controversial prank had committed suicide. She blamed the radio station for her death in one of her three suicide notes. One was for funeral arrangements. The second criticised the hospital she works at, and the third was another criticism. This time it was the radio station, blaming them for their part in her death.
Even after all those years, that incident still does not bode well for me. I know people with mental illnesses,s and a prank like that can ruin someone's life. It can push them so low that they want to end it all. But, unfortunately, the radio hosts were competent and didn't consider the risks. From memory, I don't think the radio station executives were aware of the prank until they did it. I'll have to do an article on it, so I'll look into it more.
Regardless of your views on the royals, they honour those around them and never think about themselves. They are servants to the people. The people do not serve them. Moreover, this is different from what a ton of people realise. They only see rich people with no real purpose. Monarchies serve as an integral part of history. The surviving institutes of today are living and breathing history. This is something that people like Wallis Simpson and Meghan Markle never understood.
I've written about the similarities between Simpson and Markle before, and as time goes on, it becomes more evident that Markle is just like Edward VIII's wife. Now, I have heard that while Edward VIII was deeply in love with Wallis, she did NOT love him the same way and only loved the lifestyle he afforded her.
With Meghan, she bought what Prince Harry told her about how she was like his mother. Either that or she ambushed him into thinking she was like Diana. I found it hilarious when Tom Bower wrote in his Sussex biography, Revenge, that Prince William, Catherine and the Spencer siblings didn't see Diana in Markle. I think this might be why William told Harry to take it slow with Meghan to get to know her before he entered marriage. Well, we all know how well that went down with Harry, but I digress.
Watching the royals casually when Princess Mary entered the scene was fun. Likewise, it was intriguing to see Catherine come into her own when she married Prince William. Still, the media has become saturated with PR puff pieces to snuff out any other royal coverage.
One example that started my descent into turning the Sussexes was their whinge fest to Tom Bradby while they were in South Africa. This is the same tour where Archie almost (allegedly) burned to death in a fire from a faulty heater. I've addressed this on the site a million times already. In all honesty, there was NO fire. If something happened, the media would've reported on it. The palace would NOT have covered this up. Instead, Meghan overinflates everything she talks about to make it look like it's a bigger deal than it was. Also, I addressed this when I spoke about it, but why did Meghan have a heater placed in Archie's room when it was warm outside? Just saying.
There was also a story that came out in 2020, as per Page Six, where Meghan overshadowed Camilla, who was going a critical speech about domestic violence. Markle released photos via the Sussex Royal Instagram account of when she visited the Royal National Theatre. I only recall her visiting this patronage once, as with everything else she did in the 70-something days she spent as a working royal.
Also, Markle can claim she worked hard as a royal but didn't. Princess Anne is the hardest-working royal there is in the UK. According to the New York Times, she does an average of 400 engagements yearly. Meghan cannot even compete with that. She didn't want the attention taken away from her. It is as simple as that. She didn't like that you must be one hundred per cent selfless. This could be why she hates Catherine as much as she does.
People gravitate towards Catherine because she doesn't put on an act. Meghan and the Sussex Squad claim she does, but that's my thought process. Why? Because Markle wants attention without effort to do what she preaches. This has been evident with the private flights she and Harry have taken over the years, despite saying that the plebs need to lower the Carbon in the air. FYI, M+H. First, taking a private plane is NOT Carbon efficient; secondly, it's not safer for your family. Harry has defended his family's jet usage by saying his kids aren't safe on commercial flights. I'll have to do a post on that, but to be honest, the man doesn't know what he is saying. In his mind, he is too good to fly like an average person but wants to be treated as such. Please make that make sense.
Am I sick of the Sussex drama? Hell to the yes. As I wrote the other day, my stats have dropped because no one gives a crap about Harry and Meghan. Nobody. Except for her small cluster of groupies, who appear to be dwindling by the week. Also, don't these foolish people realise that the British Royals are NOT racists? Why would people of colour talk at Her Majesty's funeral if they were bigoted? Lost Beyond Pluto did a fantastic video called "The Actress", where she mentions this. Be sure to check it out.
I would instead be talking about anything other than Harry and Meghan. But, as I've said a million times, they need to be called out for their actions. If no one says anything, they get away with it. Either way, they win. There is there no middle option. It has gotten to the point now that Meghan thrives off any attention. She wants all the good press that Catherine receives, but she's not going to get it because everyone sees through her disingenuous act now.
I have more thoughts to finish this article, but I will withhold them for another opinion piece. This post has almost reached 2k words, and I don't want people tuning out. So, I will do another journey post as soon as possible.