Meghan Markle never gave a damn about Africa. However, doctor Jane Goodall has stated that Prince Harry wanted to raise his children in Africa. Brittany of Royal News Network spoke about a story that has come out about the Duke of Sussex's dream to raise his family in Africa, as reported by Sky News Australia.
This is not too hard to believe as Prince Harry always felt at home in Africa as it was the place his father, Charles, took him after his mother, Princess Diana, to grieve. It was also a place his older brother, Prince William felt at peace, but not to the extent it was for Harry.
William And Harry's Ties To Africa
William proposed to his now-wife Catherine in Kenya in 2010. Meanwhile, Harry sourced one of the three diamonds for Meghan's engagement ring in Botswana. More on that a little later. So anyway, both royal brothers had ties to the continent. Of course, Catherine and Meghan had links to Africa, but not in the same way.
Meghan used Africa as a backdrop for PR as part of her strategy to hoodwink Harry. Remember this?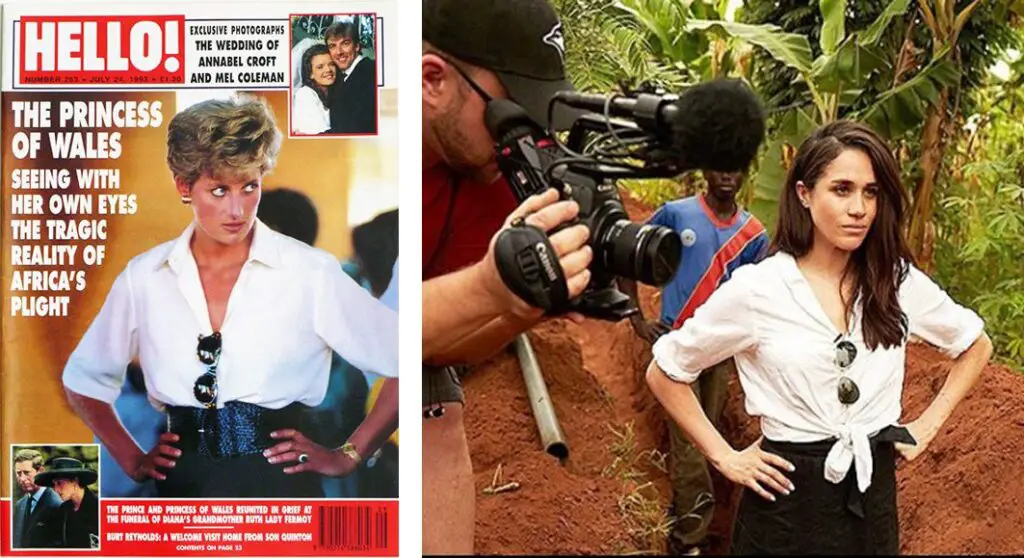 Yeah, the similarities are undeniable. Once or twice is a coincidence. More than that is on purpose. As Brittany points out in her video, Meghan visited Africa at least 3 or 4 times. Tom Bower even backs this up in his book Revenge. He states that she took a photographer and camera crew to the country.
Destination: Hollywood Dreams
Meghan's main goal was Hollywood. It always was, and she didn't care who she stepped on to get there. She needed a gullible guy, and it's clear that Harry was that dude to marry her so she could get a title, get pregnant, claim victimhood and get the hell out of dodge. I've said this multiple times before. Her drama is like a bad episode of The Bold and the Beautiful. She and Harry have told lies that have gone under the radar more than once.
Not to mention, Meghan only cares about herself. She doesn't give a damn about orphaned children living in poverty, despite claiming she does. Moreover, she lives in a multimillion-dollar mansion with staff to do everything. Even one of the producers on her Spotify podcast came out swinging, saying she [the producer] did 98% of the work. All Markle did was show up, talk to the guests and record the conversation. That is the bare minimum. Brittany found the Tiktok video of one of the producers explaining what she herself does. The producer was NOT happy. This was after The Hollywood Reporter compiled a list of the most powerful people in podcasting.
Thank God For The Podcast List
Thankfully, Meghan was not on the list. It would've given her something else to boast about, but okay. Hopefully, she doesn't appear on any podcast list. I have heard that Spotify won't renew Archetypes for Season 2, nor should they. It is a vanity project where Meghan swipes at the royals, anyone who wouldn't work with her, or those who openly criticise her. Anyone with half a brain knows that.
The crap that has been put out saying that Harry is happy living in the States is a bunch of crap. If there's one person I would trust with information, it's Jane Goodall. Do I believe that Harry told her what his dream was? Yes, I do think it. So why would she have to lie? She has been in the public eye for a long time.
Harry gave up everything for Meghan. She gave up nothing for her as only her dream mattered.