King Constantine II of Greece passed away last week, aged 82, after a stroke, leaving his wife, Queen Anne-Marie, widowed. His sisters, Queen Sofia of Spain and Princess Irene, were at his side in the hospital. A Twitter user posted this: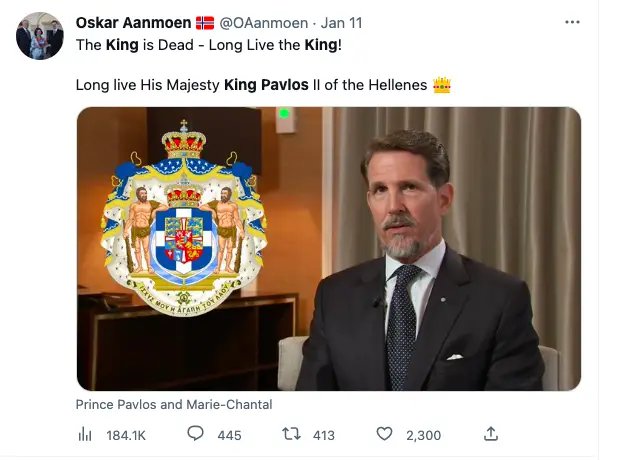 If you don't follow any royal families from around the world, you would be forgiven for thinking this is true. However, it's incorrect. Greece hasn't had a reigning royal family since 1973, when the country became a republic. This happened twice. After the reign of King George II, the Greek monarchy was abolished in 1924, only to be restored in 1935 with the same King.
George II's successor was his brother, Paul, as he [George] had no children. Paul (translated as Pavlos) was the father of Constantine II and his sisters. As mentioned, the Greek monarchy was abolished, during the reign of Constantine II, nine years after he became king. The royal family were in exile for a long time, with the younger family members born in London.
If the Greek monarchy were still operational, Pavlos would become King Pavlos II of the Hellenes, and his wife would be Queen Marie-Chantal. However, given the death of King Constantine II, no one changes titles as the monarchy is not in charge anymore. Though, Crown Prince Pavlos is now the Head of the Royal House of Greece.
Other Family Ties King Constantine II Had
Constantine II had ties to many of the other royal families. Through his wife, Anne-Marie, he was the brother-in-law of Queen Margrethe II of Denmark and Princess Benedikte and uncle to their children. He was also the godfather of William, Prince of Wales. In return, William is the godfather of Constantine's grandson, Prince Constantine Alexios.
The last King of Greece was also the brother of Queen Sofia of Spain and, therefore, the uncle of King Felipe VI and the great-uncle of Felipe's daughters.