God bless Spain. Prince Harry's memoir, Spare, has been prematurely released in Spain, and excerpts have been planted in the US and British press. So when they were saying the Duke of Sussex was putting a lot of negativity on Prince William and Catherine, they weren't kidding.
Though, what has been surprising in some of these alleged leaks is that they show Harry to be the immature and privileged brat that he is. Harry even confirms that his precious wife, Meghan Markle, did bully staff and even said cruel things about Catherine.
We're not even going to slap a spoiler warning on this post, as it's not worth it. However, this shows how transparent Harry is about his hatred for being labelled "the Spare."
Harry Claims He Was Physically Assaulted By William When He Confronted Him About Meghan Being Difficult And Complains William Acted Like An Heir
One of the first excerpts from Spare, as per the Guardian, spoke about Harry's confrontation with William about Meghan's behaviour towards staff. This story isn't new, as Robert Lacey mentioned this event in his book about the Wales brothers' feud. Lacey also said the exchange got heated.
Now, what Harry claims happened is that William called Meghan "difficult", "rude", and "abrasive" and that his older brother was "parroting" the press. Allegedly, it led to William grabbing Harry by his shirt, ripping his necklace (given to him years ago by his now-ex-girlfriend Chelsy Davy) and making him land on the floor, smashing one of the dog bowls.
Harry also accused his brother of "acting like an heir." Um. Dude! He IS an HEIR. You are just the SPARE! Brittany of the Royal News Network mentions in her new video that the way the excerpt comes off is Harry is so enamoured and in love with Meghan that he's in a cult-like mentality.
According 2Taz mentioned in her new video, people want William charged with assault. For what? A fight between siblings that happened four years ago?
William Told Harry Not To Tell Meghan, And Then Harry Spoke To His Therapist
In the same excerpt as the physical fight, William told Harry not to tell Meghan. At first, Harry complied. Instead of telling his wife straight away, he called his therapist. Ah. There it is. We'll explore this in another post, but the whole "Meghan needed helped because she was suicidal but couldn't get it" narrative never made sense. Also, Harry said on a panel for something a while ago that he never had a therapist and couldn't get help for himself or his wife. So, which one is it?
Meghan later learned about the fight after seeing cuts on Harry's back. But Harry says, "she wasn't surprised, just sad."
An Older Woman Took Harry's Virginity When He Was 17
Markle News 1 on Instagram posted an excerpt from the Mail Online. It says he lost his virginity to an older woman at 17 in a field behind a pub. Too much information! This is something that should not have been published. It's a private moment. No one cares how you lost your virginity! This story has been going around for a while. It was speculated that it was Liz Hurley, but she denied it.
Meghan Got Offended When She Was Told Off For Saying Catherine Had Baby Brain After Prince Louis's Birth
Page Six reports that another excerpt states Meghan was told off for saying Catherine had a baby brain after Prince Louis' birth. William allegedly pointed at her and said, "We don't talk like that." She responded, "Get your finger out of my face."
As you can imagine, Meghan got offended at being told off. But, of course, she did because she's the best thing since sliced bread was invented.
William And Harry BEGGED Their Father Not To Marry Camilla
Harry's delusion that the concept of the wicked stepmother comes across in Spare in another excerpt about Camilla. 7News Australia mentions that Harry and William approved of their soon-to-be stepmother as a person. But they didn't want their father to marry her because of the wicked stepmother trope.
Now, this where we call total BS. If neither of the boys wanted their father to marry Camilla, why did either go to the wedding? Or appear in photos with their stepsiblings, Tom and Laura? For anyone who has watched the British royals for years, it is clear that Camilla, like Catherine and Sophie, is a class act. She doesn't lash out when negative stories are written about her, though she would have every right to do so.
Camilla is NOT the evil stepmother, and this came from Harry's mouth after she and his father married in 2005. Oh, and he accuses her of leaking stories to the press. Big surprise that he would blame everyone else.
Harry Blames William And Catherine For His Nazi Uniform Blunder
MSN revealed another excerpt from Spare where he blamed Catherine and William for his Nazi uniform incident when he attended a fancy dress party in 2005. According to Harry's book, he claims that he had two opinions; a Nazi uniform or a pilot's uniform. He phoned them and asked which one. They told him the Nazi one because it would be "a laugh." He also expresses his upset that they escaped punishment, given they "roared with laughter" over the "joke."
Before this excerpt came out, we all knew that he would blame Catherine and William for how his life turned out. Likewise, there was speculation that he would blame them for the Nazi uniform mishap. But, as the Duchess of Narsussex points out, there is no proof that the now-Prince and Princess of Wales even had a hand in his decision to wear it.
Also, William and Catherine have never come across as the disrespectful type. So what is Harry going to blame them for next? Claiming he was told via secret wire to say racist things to service members from Pakistan? They also do not have a record of racism. Harry, meanwhile, does. Remember what he said about Chelsy Davy not being black?
The Killing Of 25 Taliban Fighters
Harry brags about killing 25 Taliban fighters, claiming his mentality at the time was to take out the bad guys before they could hurt the good guys. If that doesn't sound delusional, we don't know what does. But, of course, saying this in public puts an even bigger target on the guy's head!
You don't need to know this in the army or any other military service. It's common sense. Harry cries about how he fears for his wife and children's safety which is why he is demanding his IPP status back; he just put an even bigger target on his back.
Geez, we wonder what his fellow soldiers have today about this? Also, it puts the rest of his family in the firing line, as pointed out by Evans E via a screenshot on Markle News 1 on Instagram. A thought piece is coming soon on this, as we have thoughts!
Meghan Told Harry She Was Pregnant With Archie By Placing Pregnancy Tests Next To His Bed Where A Box Of Diana's Hair Sits
The following excerpt of Spare comes from Harry's story that adds his mother to the story. No surprises there, folks. According to US Weekly, Harry explains how Meghan told him she was pregnant with Archie. He claims he fell asleep while she was in the bathroom doing the home pregnancy tests. When he woke up, positive tests were sitting with the box on his bedside table containing locks of his mother's hair.
He says he prayed to his "Mummy" for Meghan to be pregnant and thanked her when he saw the tests. So you have it, folks; he thinks his mother is a divine beginning. But, man, he's lost in Lala land.
Harry Somehow Recalls Charles' Disappointment That He Wasn't A Girl (Oh, And H Hates Being The Spare)
News.com.au wrote that Harry claims that his father, Charles, upon his [Harry's] birth, thanked his then-wife, Diana, for giving him a spare son. First, this did not happen as it is well-documented that Diana coined the phrase 'the Heir and the Spare'. Also, how did Harry know this? It is known that there is the odd person who can recall things from infancy. But it's not something that happens all the time.
But Harry is as dense as they come. He wouldn't have remembered any conversation from the moment of his birth unless he was told later in life by his father, mother or someone who knew what happened on the day he was born.
Also, it is well-known that Charles was eager for a daughter and was disappointed that Diana had given birth to a son in place of what he got with Harry. While he had William, he would've liked to have one child of each. Gender. Moreover, this isn't to say he didn't love Harry. But, of course, he did.
Charles's Joke About Not Being Harry's Father And Didn't Hug Him When They Learned Of Diana's Death
It's no secret that rumours of Harry's paternity have been swirling his whole life. Many believe his father is James Hewitt, one of Princess Diana's lovers. However, Hewitt has gone on the record multiple times to deny Harry is his son and has explained when he and Diana met was well after Harry's birth.
Charles has used this as a joke with Harry for years, and then his son turns around and claims his father didn't embrace him after Diana died. We know this is untrue because multiple photos were released when the Princess of Wales died where Charles walked, holding Harry's hand as they inspected the flowers left outside the palace.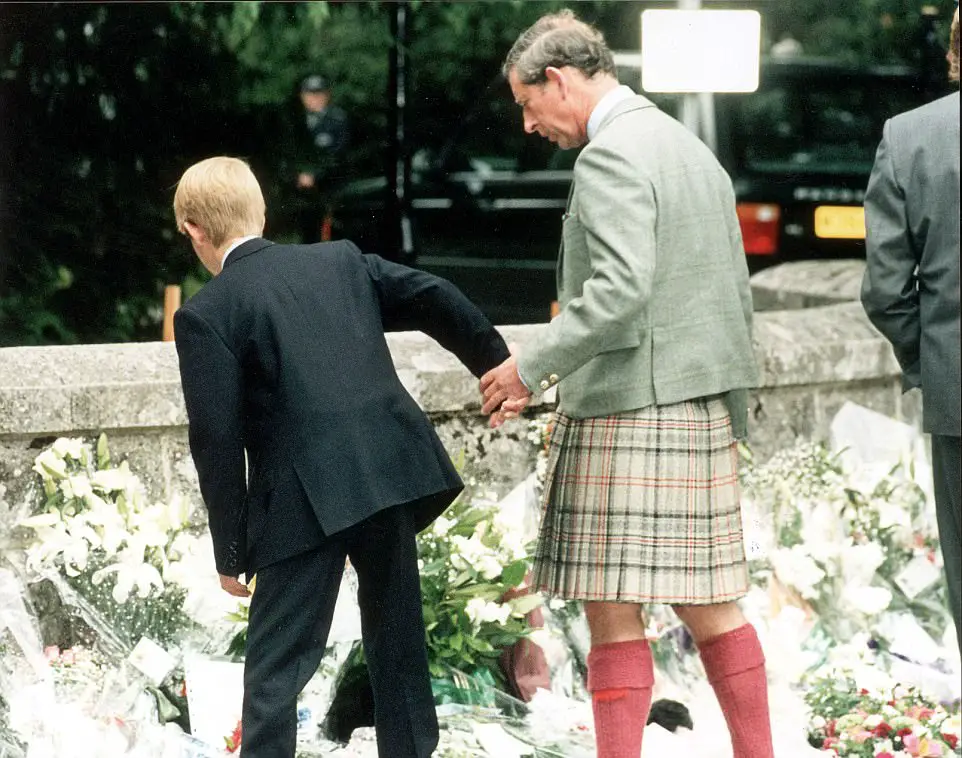 If you stare at the cover of Spare long enough, you can see Charles in Harry's face. It's almost like an optical illusion.
Charles Told Harry That Meghan Couldn't Go To Balmoral When The Queen Was In Her Final Moments
This next bit, despite coming from Harry, verifies how everyone in the royal family felt about Meghan. We know that Meghan wanted to be at Balmoral when the Queen died but was told "no," her least favourite word.
Harry's version of events is as follows. They get a phone call from an unknown number. It's Charles telling them the Queen's health has taken a turn for the worse. So the Sussexes look up flights and get a call back from Charles saying Meghan can't go.
Here's what we don't get. What makes Meghan so unique that Harry demands she is there in his grandmother's final moments? They weren't close. Catherine wasn't even going to be there, despite Harry saying she would be. This shows how disconnected he is from his brother's life.
He had no clue that his nephews and niece had just started a new school that day. Someone had to be there for the kids, which is likely why Catherine didn't go to Scotland as Camilla and Sophie did. Also, as did Camilla, Sophie was like a second daughter to the Queen and spent a lot of time with her. Meghan only met Her Majesty not even a dozen times.
Harry then states that his father has no right to tell his wife "no," or something along those lines.
Harry Admits Watching Meghan's Sex Scenes On Suits Was A Mistake (Oh, and Apparently William And Catherine Were Fans?)
This second last one is a doozy and shows how petty Harry truly is. He claims that his brother and sister-in-law were religious fans of Suits. Umm. What? Also, Harry mentions Googling and watching Meghan's sex scenes from Suits.
Okay, we do not believe for a second that William and Catherine watched Suits. But, if they had watched it, wouldn't Harry have mentioned it during the "orchestrated reality show" of an engagement interview? Also, does anyone know if the show was broadcast in Britain?
Also, this is the third version of this narrative.
The first version was from Harry during the engagement interview, where he said he had never heard of the show and didn't know who Meghan was.
Version number two claims that Harry was a massive fan of the show years before he met Meghan.
And now have this new version where William and Catherine were the fans. We don't believe this for a second. Given this is only coming up now, and it's taken as a swipe at the Waleses, then sorry, not buying it. Also, Harry makes out that William and Kate were such big fans that he was worried they would want an autograph. Oy very.
He also said watching Meghan's sex scenes was a mistake.
"Frostnipped" Penis
There are a ton of other excerpts we could end with, but we wanted to go over the frostnipped penis one. According to Harry, on the day of William's wedding to Catherine in April 2011, he had a frostbitten penis. Umm. Do we NEED to know that? NO! No one would care if piranhas bit off your genitals. It's a private thing! His obsession with sex is out of this world.